Building on the USB interface, the design has been modified to allow other household items, in this case pens (standard biro size) and pencils (of also a standard size) to be used. This extends the "upcycle" mantra associated with our USB access design, however to reduce printing time and material use, containment features such as depth control (limiting contact to the depth of a lid or cap) have been sacrificed.
Developed for lightweight application in communal environments, this design aims to safeguard everyday workplace contact points against the risk of virus transmission. Applications may include office kitchen cupboards, filing cabinets or an assortment of other necessary shared workplace interfaces. Check out the video below for some ideas.
Optimised to 3D print in 5 minutes with a material cost per piece of less than 2p!
This design has been published under a Attribution-NonCommercial license, meaning you can download, print, modify and share! Click here to visit our #CleanAccess GitHub page and print one of your own.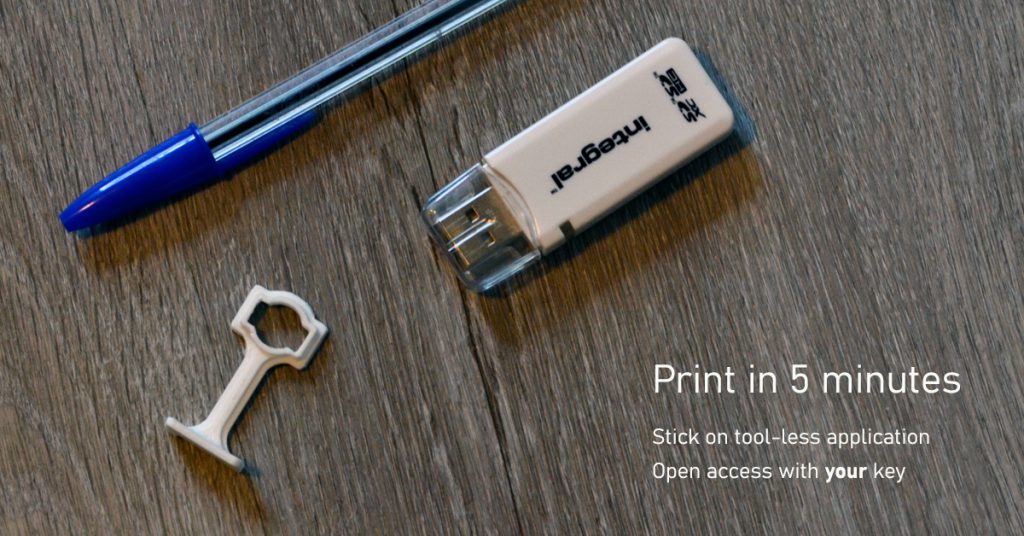 Summary
Reuse a common device (pen/pencil/USB) (+)
Suitable for pull/push and turn (+)
Very fast print time (+)
Suitable for heavy doors (+)
No depth control for pen/pencil insertion (-)
Not aesthetically appealing (-)
Print time ~5 minutes; material cost <£0.02; mass <1 gram.
Opportunities for improvement: Range of designs to connect to handles, taps, switches etc; split into two parts – base and interface so as to allow combinations; include a depth limiter so as to use the tip of a pen.