Since the rise of the paperless office, the USB memory stick has become a staple of workplace stationery. Commonly found multiplying in the back of drawers or long forgotten suit pockets, its features have allowed users to file share and store data with relative ease. However, its abundant nature and universal standard interface present an altogether new and innovative opportunity to prevent virus transmission; breaking the physical transmission pathways of COVID-19, and containing contact points to the devices cap.
This simple adaptor has been developed for lightweight application in communal environments, safeguarding everyday workplace contact points by introducing a non-contact access point for use with personal USB "keys".
3D Prints in 10 minutes with a material cost of 4p per unit (on a regular FDM printer)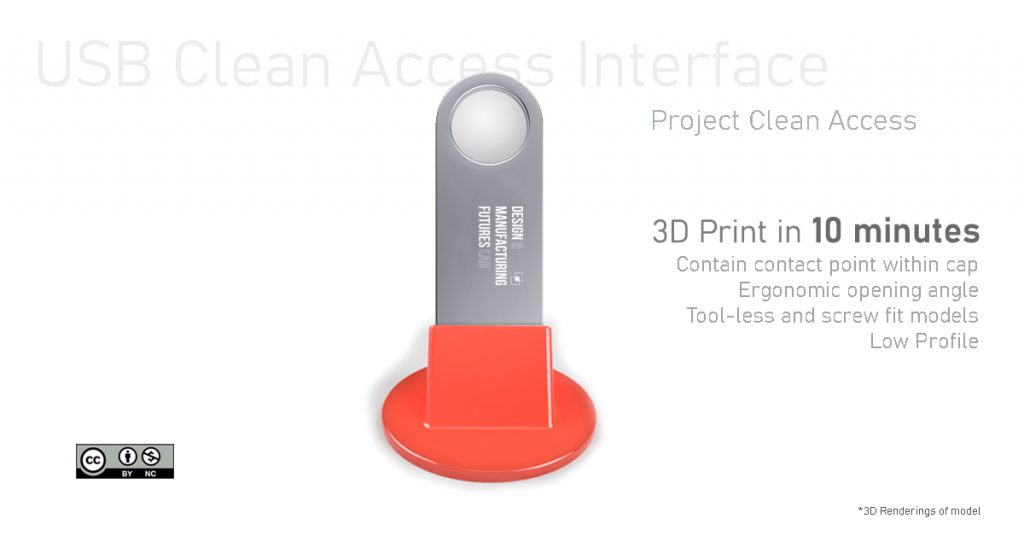 The design is minimally intrusive, featuring a low profile angled USB slot for ergonomic use. Its mounting surface area is optimised for non-permanent stick on application with a range of double-sided mounting tapes and, works equally well with hot glue. For those more confident in a traditional dome headed screw to the door (or other surface), we've also made a screw mounted version available on our GitHub page.
Simply stick or screw the adaptor to your surface, use your personal USB "key" for clean access, finally, seal away the contact point with the devices cap or retraction features.
Suitable for fast printing on standard FDM 3D printers and, more industrial higher volume SLS or SLA additive manufacturing platforms.
Summary
Reuse a common device (+)
Sealed contact interface prevents transmission (+)
Suitable for lightweight doors and operations (+)
Fast print time (+)
45° profile to allow easy access (+)
Not suitable for heavy doors (-)
Limited 'pull force' (-)
Print time ~10 minutes; material cost £0.04; mass 2 grams.
Opportunities for improvement: redesign to connect to handles, taps, switches etc; further reduce 3D print times. Optimise for higher volume manufacturing processes, e.g. injection moulding.