In April, BAM project members Jennifer Johns and Kautsar Ramli attended MACH Conference 2022 at the NEC in Birmingham. Organised by the Manufacturing Technologies Association (MTA), the conference brings together manufacturing companies, forming the UK's largest showcase for new technology, innovation and advanced engineering.  Spread over several halls of the NEC, the show has over 500 exhibitors and over 25,000 visitors.  Jennifer and Kautsar attended to speak to companies, meet with project partners and to recruit interviewees for the qualitative data collection for the project.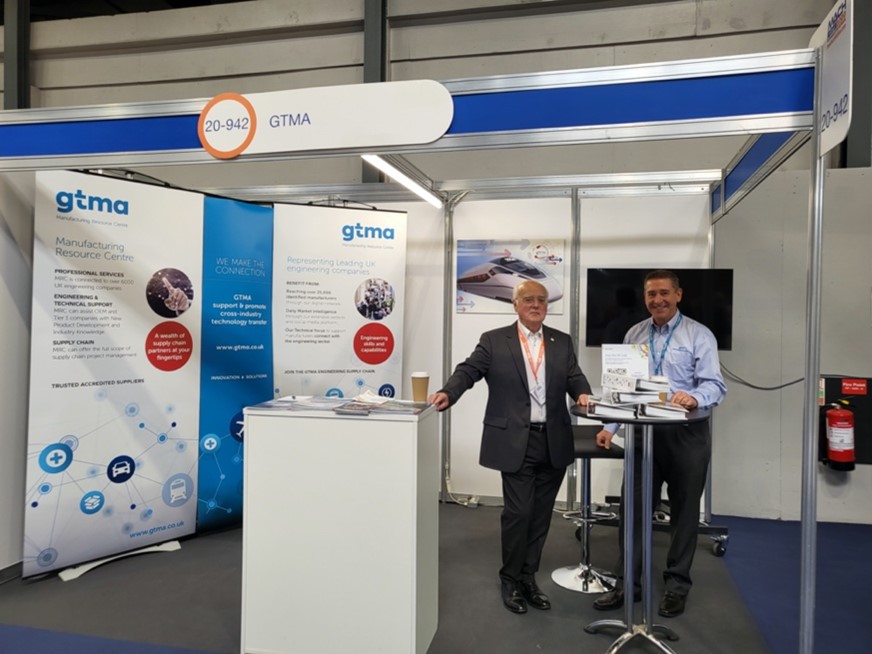 Alan Arthur and Roger Onions, GTMA. Photo by Jennifer Johns.
We visited our project partner's booth, the Gauge and Toolmakers Association (GTMA) to talk about the use and recent development of additive manufacturing with their members. We also had a great conversation regarding impact of global crises and other recent challenges in manufacturing landscape.
Our attention was focused on 3D printing and additive manufacturing zone, where companies including HP, Stratasys, Additive-X, Tri-Tech 3D, Total Control Pro and Digital Manufacturing Centre held stands alongside organisations like the Manufacturing Technology Centre (MTC) and Additive Manufacturing Research Centre (AMRC).  Other companies with significant additive manufacturing activities were also present at MACH, including Renishaw and the Carfulan Group.  
In our conversation with these organisations we discussed the key issues facing manufacturing in general, and additive manufacturing specifically, in the context of our project aims – to develop UK capacity to meet 'big demand' using 3D printing technologies.  Interest in the project, and the need for the research, was high across industry. Firms talked to us about the 'global shocks' that were impacting on their activities, impacting on supply chain issues (particularly importing and exporting times) and the availability and cost of materials.  Despite the challenges firms are facing, there was great sense of optimism about the short-term future of manufacturing given growth in the green energy and nuclear sectors and confidence in the ability of additive manufacturing to substantially contribute to national manufacturing capacity.  We also found that firms talked about sustainability agenda, not only focussing on sectoral growth but also human labour and capacity. This includes the importance of early education and awareness around the use of manufacturing.
Many firms have agreed to contribute to our research and will be formally interviewed as one of our data collection tools to enable us to model our distributed network.